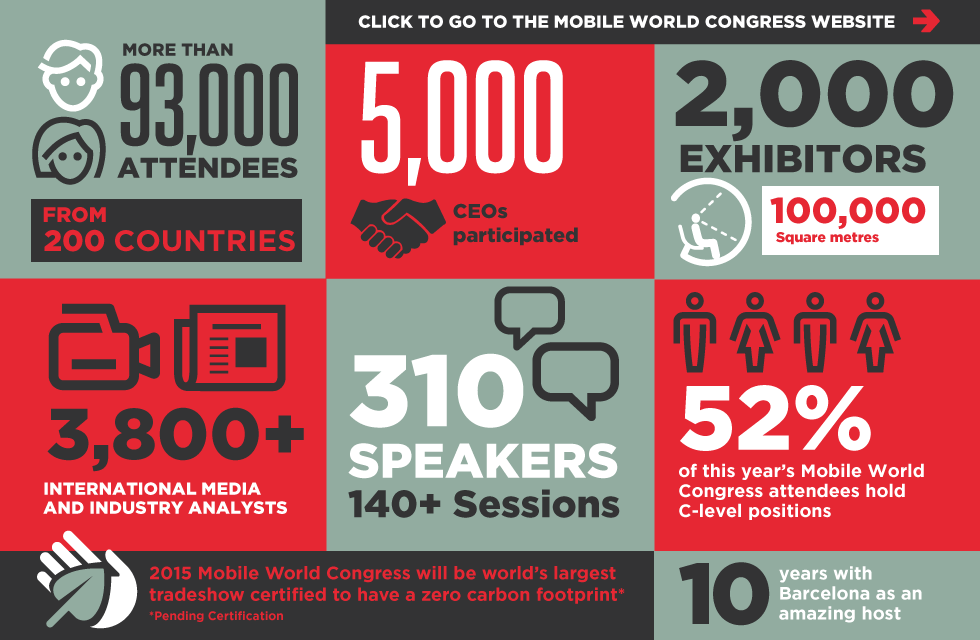 Here's a quick look at the top stories from Mobile World Congress that took place in Barcelona at the beginning of this month.
Connected Living dominated the talk this year, with innovations like wireless charging lamps and tables from Ikea and a slew of wearables that determine health state and the wear-all on how to improve, control and monitor it. On this point, MWC could have been forgiven for transmuting itself into Baselworld – watch and timepiece expo – with the number of watches that were launched.
You're never too young to start in tech –MWC's second Mobile Explorers Club brought together kids aged eight to 14 from around the globe who learned new skills and had the opportunity to discover the world of mobile and technology. Other big topics on the discussion board were: Big Data, mHealth, Connected Women, Mobile Identity, Development and Inclusion, not to mention mobile money solutions which curiously are no longer confined to the developing world.
Mobile Month – a slew of new cellphones were launched including:
Samsung released its Galaxy S6 and S6 Edge – cool attributes and lightening features might be offset by the disappearance of a micro SD slot and the absence of a removable battery.
Not having a problem with battery power, HTC revealed its premium offering – the One M9. Driven by Qualcomm's Snapdragon 810, the phone is fast and has a host of slick interfaces. Downside: Photos lack depth and colour. A tough choice with the Apple 6.
Not to mention Windows 10 OS, LG, Hawei, Honor, Blackberry, ZTE, Noka, Sony Xperia and the Ubuntu edition and the like.
Looking more and more like we are plugging into the Matrix there were a number of bolt on devices that keep users plugged into their gaming consoles – gaming across all platforms was big, and sets the stage for gamificaiton consumer engagements for years to come – whether as entertainment, information or marketing engagement.
Overall, MWC was the biggest and busiest yet and has set the stage for a very interesting AfricaCom later in the year.